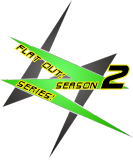 MTDZX- Flat Out! Series!
The last hurrah remaining. Final battle begins!
50 rounds behind, 1 round remaining! Will.I.Am is still leading standings!

Mr.
Flat Out! has clearly dominated the series along with UM21.
According to Round victories, they have won 27 times as total from 50 Rounds, more than 50%! Willi leads the standings with 417 points and is 21 points ahead of UM21.