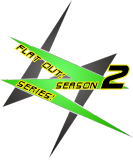 MTDZX- Flat Out! Series!
Willi still on the lead!
40 Rounds are now behind and only 10-12 rounds to go! Willi ( LFSW: Will.I.Am ) is still leading on points standings, but it has turn out the results could be much tighter if newcomers would have joined to series much earlier.
Nonetheless, despite having only victory and not so many points from rounds 31-40.

As points standings is similar since last news, there are few things worth to mention such as Sobis is going to hunt down T.Soini's 3rd place for real, and several new racers are showed off their real capabilities.
GreyBull [CHA], Sandisck, Rik97 and redbot_ are good examples to mention.