Qualify
Race
Moody!!!
Round 39 did offer unexpected and dramatic moments in first lap and last lap. Results are exceptional. Results are absolutely unexpected...
...THE WINNER IS.... GEVIN!!!
First time ever we see a driver who wins the race who never led any laps on Round 39 race. Sobis received 10 second penalty causing a chain reaction in lap 1, who did cross the finish line as first, but was dropped to 5th place. Ultimately the setup was planned to be for Mr. Seahorse aka Y.Laprevotte, but moments in last lap dropped him to 2nd place. That means Gevin wins Round 39 and has the power to select a layout to round 40 from rounds 31-39. However, Gevin ( LFSW: Sandisck ) receives unofficial warning about having collision with R. Kardol on first lap, but no penalties received, nothing else than pointing with forefinger towards to Gevin, reminding of the crash. However, Sobis started it.
Anyway, victory is yours! Well done! Especially when started from 7th position.
2nd place goes to Y.Laprevotte ( LFSW: GreyBull [CHA] ), who did led 40/41 laps. Basically all but last lap. He had great chance to take the top but unfortunate collision with Sobis on last corner, which happened to be a lag hit, caused Mr. Seahorse to lose control, hitting the wall.
Due penalty, 3rd position goes then to Mr. Flat Out! Started from 4th place, and finished as 4th place, but resulted as 3rd, it was regular, good performance by him.
4th place goes to Pole Position guy, R. Kardol. Collision with Gevin at first lap was disaster to him, but was eventually the best result he could do after a such. Was close to catch and overtake Willi, but not enough laps.
5th place goes then to victory guy, Sobis, who did cross the line as first and, well... rest you know. Too bad, but that's what it is. Strangely, he made unofficial "golden lap", as leading only one lap, which tends to be a last lap, but due penalty, he did not won. So it is very exceptional result. Never seen before winner have led 0 laps, and golden lap maker did not win the race.
6th place goes to T. Soini and 7th place goes to UM21, who had problems to keep car at track.
You like highlights? Of course you do! Here they are!
Start Grid and start.
So, as seen in video, things did start right after turn 1 and continued to turn 2. In pictures. Chain reaction happens when Sobis hits Gevin in awkward direction.
Situation goes like this: Yann has escaped, Gevin, Sobis and Willi doing the draft and Soini is left behind. Rik and UM21 have spun off.
Soon Gevin and Sobis starts to draft well and leaves Mr. Flat Out! behind. Time to catch leader.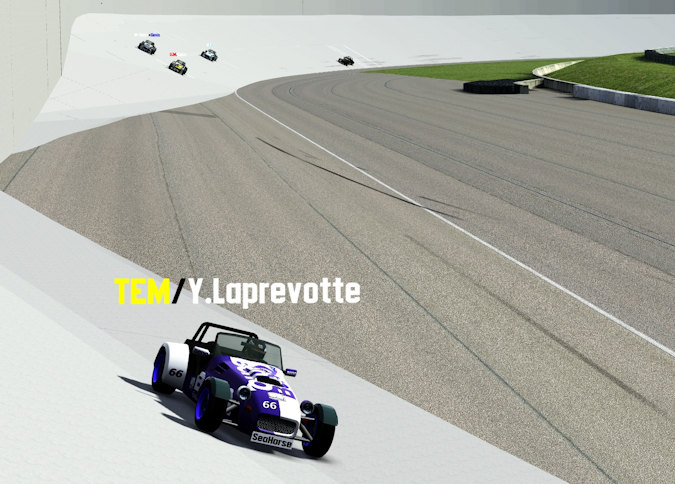 Meanwhile, UM21 crashes.
Rik have catched up T.Soini and overtakes him fairly easily.
Here is the last lap in pictures and video.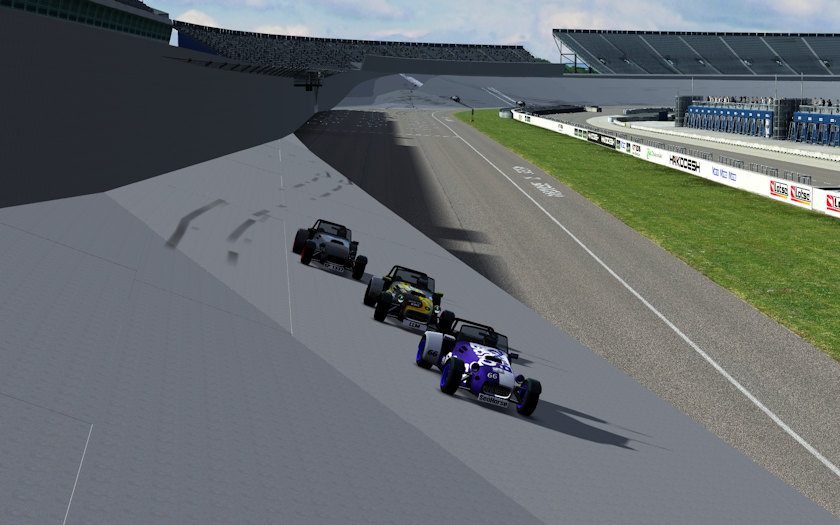 TRIVIA
No one have ever won the race before with leading 0 laps.
Also, no one have ever before winning not a race with doing a golden lap, which means all you have done is leading only one and last lap, which usually happens to be a victory lead. This time, this did not happen due penalty received.
It was 2nd time, when victory is lost by penalty. Last time similarly happened was in Round 11 race, where Arska ( LFSW: Arsk4 ) crosses the finish line first, but loses the victory due 10 second penalty added in total race time.
Yann led 40 laps, Sobis one.
No one used !flip command.
Rik's first pole position, Gevin's 2nd victory.
7/7 racers did finish, which is 100%. Last time similarly happened was in rounds 34, 14, 7, 2 and 1.
Stats and points will be updated soon.
Thank you for participating this round. Next round will be next week's thursday, which is Round 40, winner's choice at around 16 UTC.
Gevin did select a layout from Round 34, which happens to be Speed and Traps. Car/cars, will be random Stay tuned!