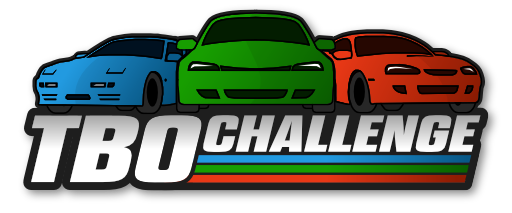 TBO Challenge 2020 - Signups
To enter the TBO Challenge 2020, make a post here giving your requested car number, LFS license name, your real name, your nationality, your car selection, and your team name. Separate each field with a /, no space between the text of the field and the /. You may use "TBA" for your car selection if you have yet to decide. Example:
42/dekojester/Jonathan Palmer/United States/RB4/New Dimension Racing
Any number 2-99 is free for selection. Number 1 is reserved for Ramon Blauwhoff (ChristijaNL), the champion of the 2010 TBO Challenge.
Signups are open NOW, and will close 2 hours and 5 minutes prior to each round, and not open again until 2 hours following each meeting's conclusion.
Licence Requirements for Drivers
No NDR Licence Grade limitation.
You will need a minumum of an S1 LFS License to participate.
Entries are tracked in the attached PDF. This PDF is updated at least once daily, when changes are necessary.
Numbers highlighted in orange are conflicted, and that entrant needs to change their number. They have been directly notified.
A car selection marked in
Bold
is to inform that the driver has appeared in that car in a session of the season, and must remain in that car or forfeit all points earned up to the change.