Hello all,
I already made this post at my teams website but thought it was fun to do it here aswell. I saw ducky made a post bout his racing and i don't think everybody is aware of what i do besides racing LFS so i thought "let's make one myself"
I started racing when i was 15. I took part in Bleekemolens racing school and when i was 16 i got my licence and did my first endurance races in a seat ibiza diesel.
And i did ALOT of drifting to train my car control. Even did some competition drifting later on.
After the endurance racing the team wanted me to take part in the biggest (small) dutch events. During al the major Dutch championships. I took part in the Seat Ibiza Cup
I was Vice champion in my first season. Well vice champion is just a nice word for being 2nd :P
Because i came in 2nd some people became interested and asked me to test Formula Ford. Everything went quite well and i signed with GEVA racing to race in the dutch formula ford.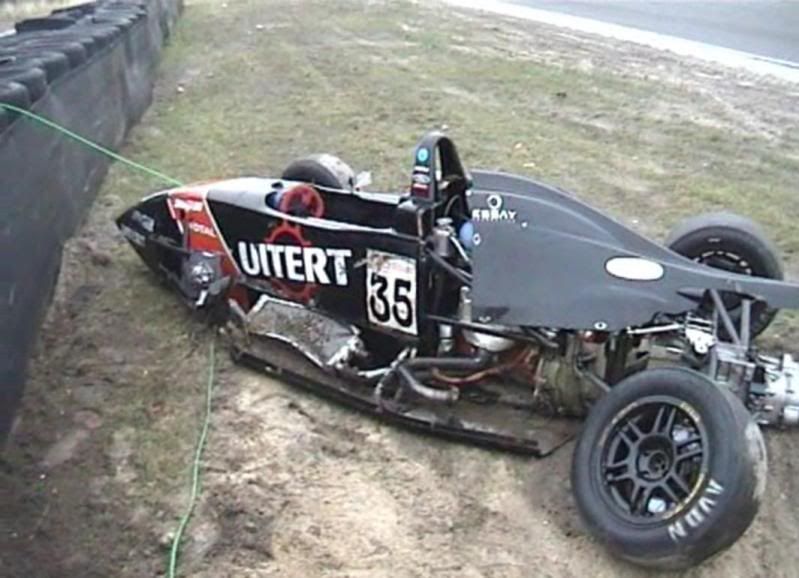 Like i said the test went "quite" well

I won the championship and became dutch and benelux champion. I also took part in the world final at brands hatch. I won all the heats and the semi final but came in 4th in the final (behind people i already beat in the semi's)
In between all this i raced in several 24hour races ( barcelona 3 times, Dubai 1 time )
That was dubai btw :P
After the formula fords i drove the Formula Renault for two years in the NEC championship. The first season was quite good, i came in 6th. After that season i made the wromg team choice, i should have gone to another team to learn different things but i stayed with the same team ( budget issues ) and came in 8th.
It's a tough sport sometimes

This year i did my first year in the Megane trophy during the amazing World Series by Renault weekends. I got some good results in the races that i finished. But i only finished 5 out of 14 races

. So the season was really bad. After the season i did some testing with another team and for next year all is looking great.
In between i did some guest races in the dutch gt4 in a ginetta G50. I inmediatly won and it was the first victory for that car. Think that was the best thing of 2009 for me. Because the Dutch Gt4 is quite high level for dutch standards.
Movies:
Formula ford promo movie
http://www.youtube.com/watch?v=_oPsR2Z-jJs
Movie of Megane at Le mans

( damp track with slicks )
http://www.youtube.com/watch?v ... M3qkA&feature=related
free prac with Ginetta
http://www.youtube.com/watch?v ... y75b0&feature=related
Race with ginetta ( which i won ) rear view part 1
http://www.youtube.com/watch?v ... in3Ag&feature=related
Part 2
http://www.youtube.com/watch?v ... CwWzE&feature=related
There is so much more to tell but this topic is already to big

Will keep posting things concerning my racing