Hi, I've not come up with a strong enough argument nor found the will to actually right this down because there's every chance the dev team would turn a deaf ear, but I feel in order for the Sim to progress and gather a wider array of drivers and lesser skill gap, the following has to change.
What should be changed, you ask?
Powersliding to gain time. "Mario Karting", drifting, soap bar cornering, however you name it.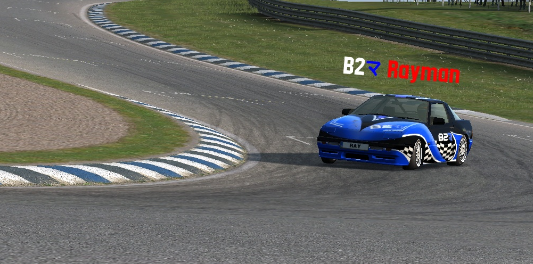 B2r Rayman, [FM] GTi Thursday BL1X
This may be a constant annoyance I am sure for those drivers who race in multiple sims - having to adjust the driving style to suit the physics model that encourages an unrealistic handling of the car is definitely not right.
What is powersliding/mario karting, you may ask?
In LFS, slower cars, or cars with lesser downforce require the driver to rotate the car using the rear in order to maintain a higher corner speed and exit. This is only possible with a set-up that is remotely fast. You may see this in tracks with quick, sweeping corners, or in slower cars, particularly the XRG. If you maintained a more realistic and normal driving style by entering the corner neutral, you will often see your time delta fade away compared to the faster men and women. The faster you go, the more exaggerated this maneuver becomes.
Faster cars are not spared either! Seen a BF1 lap of a fast driver around Blackwood, FOX at South City, or a FXR on Westhill yet? Same thing, same problem.
On the contrary, yes, you can indeed drive the cars with a traditional driving style, being slow in, fast out, rear following the front, and still be quite fast on your own accord. But, would you be nearly as fast as the world record holders or faster racers?
Well.... no. It's
physically
(heh, pun!) impossible in LFS.
To add on to that, in certain tracks, the abuse of the handbrake to lock up the rear axle to promote more frontal rotation just makes the entire immersion and realism of driving quickly in the sim just a chore and not a fun experience for those whom stay true to their driving style and are unable to change it to suit what LFS offers currently. Every car just feels like it wants to be trashed around like a Rotax Go Kart.
For me, after several years of racing here on LFS, I have somewhat grown accustomed to the powersliding style that gains time. However, I find it hard to transition quickly from car to car or track to track and be quick on the spot - even when I consider myself pretty adaptable to different cars. Coming from a good racing knowledge background and watching tons of races across several leagues, it's hard to wrap the brain around the LFS car handling at times.
To end off, this is an example of how cars should behave, and what LFS should aim for in terms of realistic handling.
I'd rather have an slightly understeery, more true to "real-life" base handling physics that set ups could work to improve, rather than a model that encourages the exploitation of lateral grip. Where's the slip limit gone for the rears in LFS?
Slow-ish Toyota GT86s around a fast sweeping Phillip Island
What are your thoughts, and do you think the next major update for the tire physics/handling model should resolve or make changes to this issue?