Ok guys I dont know how to explain this because maybe you wont understand, but in short:
I dont have a big budget.
There is a track day event in my country, I really want to go, but I dont have a car (I have a pick-up truck, is my working horse). so...
the last track day I rented a car, and I get into the track. It was a lot of fun, I had some action.
here is the video:
https://www.youtube.com/watch?v=iXdJKn0b42g
Renting a car is my cheap fix to enjoy a track day, and since in my country there is so many noobs driving cars with good performance, sometimes I just give them a hard time for my pleasure.
The problem is....
When I took back the car to the rental, they just discovered that I was racing, mostly because the tyres. I dont know the exact term to describe them but... the edges of the tyres were like teared? but they werent that bad, I mean, I could swear that I had a lot of rubber from the track in the tyres. I have pictures, check the attachments.
basically the tyres were like this: (note, I took this pictures from a bike website but the tyres look very similar to my problem)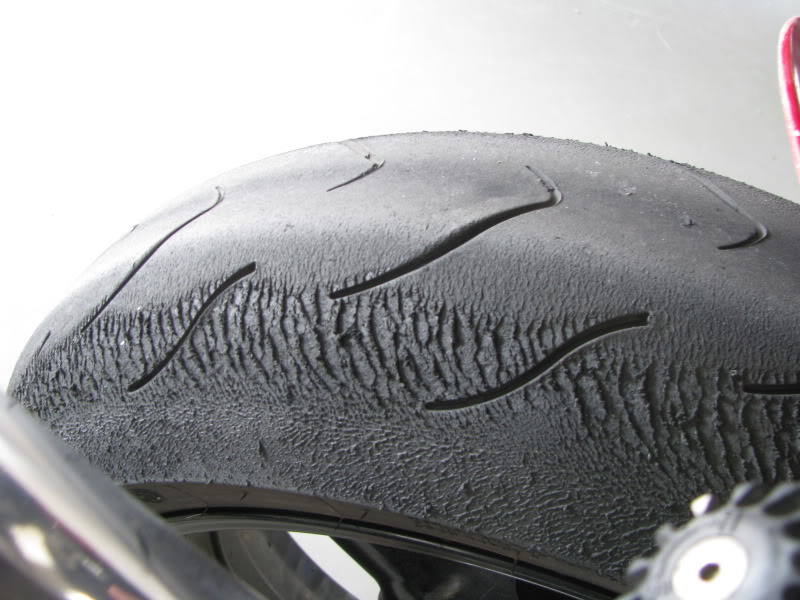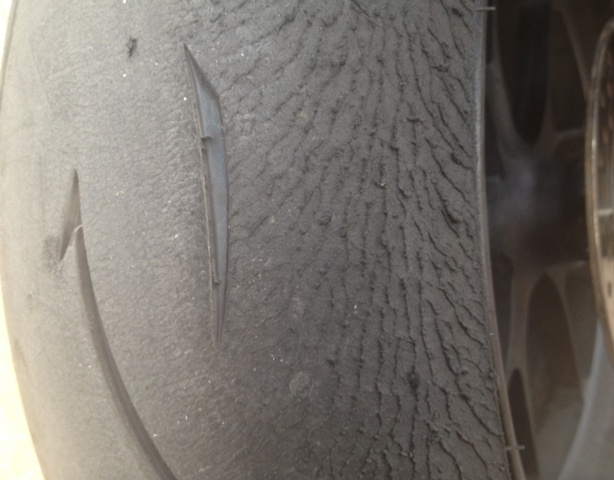 I was expecting some tyre wear but not this way (since I really did a lot of laps, my local track is not that hard, mostly high speed curves, and one with mid-to low speed, that was the curve I feel it like the hardest on tyres)
A friend of mine told me that I could fixed that easily, doing a sort of "cleaning" to the tyre, I am not sure. it looked like I could take it away with something.
I was trying to buy some used tyres from the racing cars here but the rims size and wide dont match with the rentals available.
Purchasing a set of rims is very expensive for me just to use them one day. Nobody wanted to lend me their rims (I offered to pay for it).
The next sunday is the track day, I am begging to see some rain because in rain I wont damage the tyres.
I was wondering if there is really a quick fix to this, I was expecting the tyres to wear different.
I dont pretend to restore the tyres to their original condition, but getting them a nicer look, a more natural look of tyre wear.
pd: sorry for my bad english.