C5241E
CHIMERA X1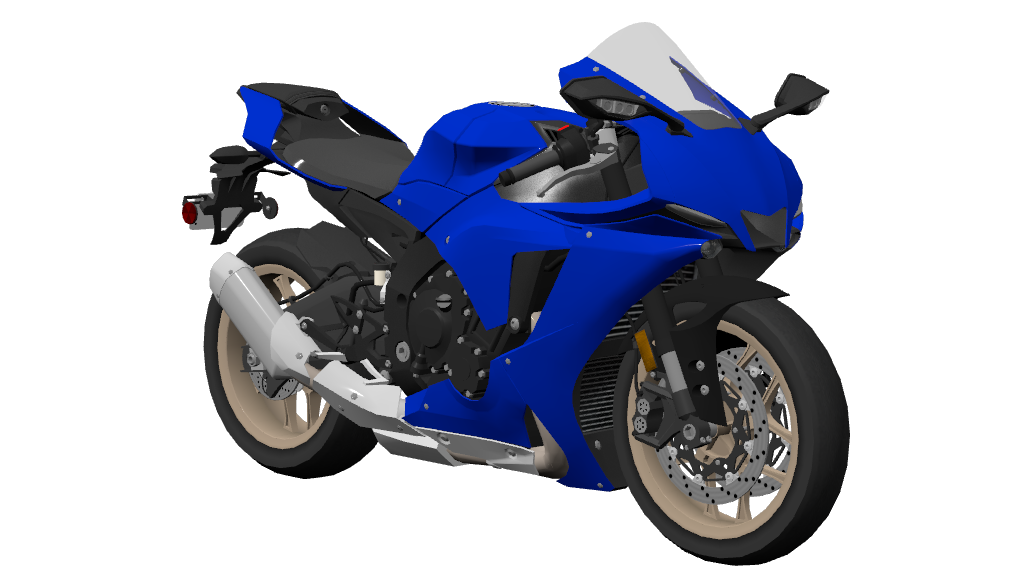 Uploaded by :
Skin ID :
C5241E
Approved :
YES
Published :
(version 8)
Downloads :
19214 - online now : 2
Access :
Public
Vehicle class :
Bike
Drive side :
Central driver position
Engine :
998 cc inline 4 / Rear wheel drive
Power :
160 kW (215 bhp) @ 13498 rpm
Torque :
121 Nm (89 lbft) @ 11770 rpm
Total mass :
190 kg (418 lbs)
Power-weight :
846 W / kg (1153 bhp/ton)
Transmission :
Motorbike
Fuel tank size :
17 litres
Information
Comments (3)
Changelog (7)
Skins
Setups (0)
Description
998cc Superbike
Yamaha YZF-R1 inspired bike made in Blender.
Built for experienced riders but can be used by less experienced riders too thanks for Traction Control and ABS systems that come with the bike (Although ABS doesn't really work on this bike but it's included anyway).
Fairly balanced and powerful bike that does not require additional balast to be added to the front (results may vary, but using wheel and pedals it can stop really fast without any major wobbles).
Highly detailed model with realistic LOD2 for shadows. Some parts may still need some textures and details.
Thanks for Turbo (superlame) for engine sound. Might not be super realistic but it's closer than what is possible right now in editor.
You will have to adjust your inside view to see LCD. My settings are:
Field of View 100

Pitch view -11.65

Y offset -0.109

Z offset -0.053

Turn mirrors 6.5 degrees down, each.
Most textures are made by me using Gimp, Blender, some are taken from original LFS files.
Copyright Information
License applicable to elements used in this Vehicle Mod
The author of this Vehicle Mod has indicated that this work is an original creation and has provided the following description of the approach:
Gathered reference photos of desired motorbike and using said images modeled the motorbike from scratch using Blender. Had to get more reference photos along the way to make sure the details are modeled as close as possible.
Redistribution / modification permission
The author of this Vehicle Mod has provided the following license, defining in which way this work can be redistributed, shared or modified:
License type :
LFS Vehicle License
Derivatives are allowed :
NO
Intellectual property
This Vehicle Mod is inspired by another vehicle.
This mod is inspired by 2021 YAMAHA YZF-R1
Disputes
Vehicle Mods have to undergo a review process to hopefully avoid any future disputes about inappropriate or unauthorised content.
If however some detail has been overlooked during the review process and you wish to address this, you can
file a dispute by contacting the LFS developers
.
We will review every report and typically get back to you within 48 hours, but at most 7 days.
Included Skins
Skin Templates Kit
The LFS Vehicle editor provides options to create skin templates. A template helps you create skins for a vehicle by giving you the outlines of the vehicle's shape, within which you can draw the livery that will be drawn onto the vehicle.
There are 4 types of templates:
Shaded skin template
Black and white skin template
White background wireframe template
Black background wireframe template
A Skin Templates Kit contains these templates and optionally other tools to help you create skins for a vehicle.
No skin templates kit has been provided by the creator of this vehicle mod.
Setups
There are no setups for this vehicle mod.