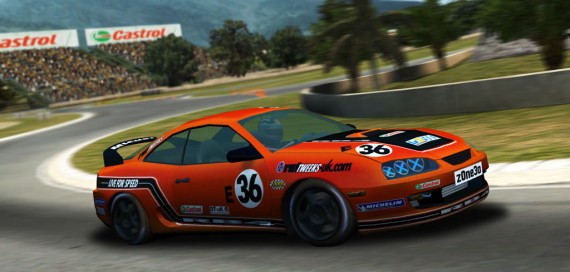 The RB4 Trophy moves on to its third round at Westhill International Reverse.
After the sprint race at Aston Club we arrive at Westhill for the second long race of the trophy, where tyre management will be crucial again. This event will consist of a 15 minutes hardcore qualifying session, and then will proceed to a single round of 25 laps, lasting about 50 minutes.
Here's the calendar of the Trophy:
Round 1:
Fern Bay Gold (fe3), wednesday 07/04/2010 (1 race of 32 laps)
(COMPLETED)
Round 2:
Aston Club (as2), wednesday 21/04/2010 (2 races of 20 laps)
(COMPLETED)
Round 3: Westhill International Reversed (we1r), wednesday 05/05/2010 (1 race of 25 laps)
Round 4:
Blackwood Reversed (bl1r), wednesday 19/05/2010 (2 races of 17 laps)
All events are held on wednesdays at 21:30 CET/CEST (19:30 UTC at this time of the year), and are approximately an hour and a half long. Go to
www.funracingleague.com
to subscribe for the next events! Remember, you have until Monday midnight to set 10 laps on the next combo, to be eligible for the event.