Join the Layout Racing League Discord and communication channels
https://discord.gg/JNF3GFH

Layout Racing League - Round 9, Norisring, Race Summary
Layout Racing League heads to Germany for the final round of the season at the high-speed Norisring, famed for it's close DTM racing and long front straight. With the championship wide open, it was set to be interesting - and so it was, with [TC-R] Pete holding off his rivals to claim yet another win and his very first LRL Driver's Championship.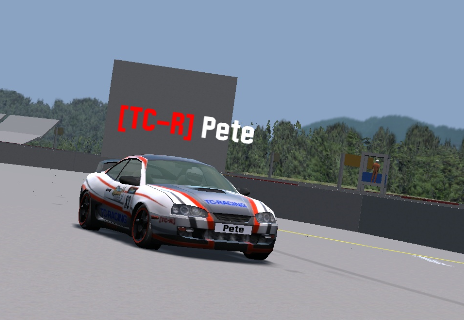 Qualifying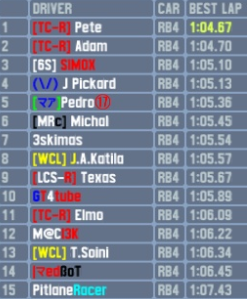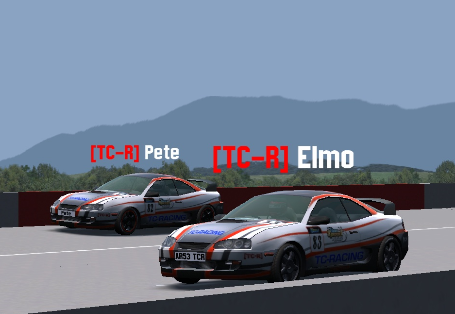 The unfamiliar track surface of the Norisring was an unknown for the majority of the drivers, with most unable to get to grasps with the lesser grip on offer. With the session turning into a proving ground for the field as they lapped and slowly found speed, it was [TC-R] Adam who set the early pace ahead of his championship-leading team mate, Pete, ahead of a surprisingly on-the-pace Pedro(17).
As the session wore on, Adam and Pete dipped into the 1:04s before the latter put in a lap to take provisional pole. Behind them, [6S] SIMOX and J.Pickard traded laps as they held down 3rd and 4th respectively, with [MRc] Michal in 6th and [LCS-R] Texas unable to find pace, stuck down in a lowly 9th.
Closing off the final qualifying of Season 1, it was Pete who edged out his team mate to get pole position and put him in the best position he could ask for for the race start!
Race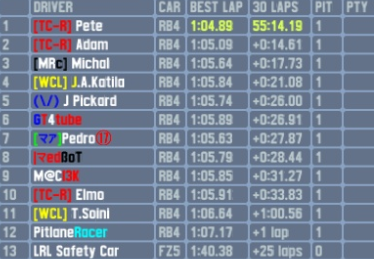 13.
[LCS-R] Texas +25L Technical
14.
[6S] SIMOX +26L Technical
15.
3skimas +26L Technical
Fastest Lap : [TC-R] Pete - 1:04.89
Penalties :
Away we go for Round 9!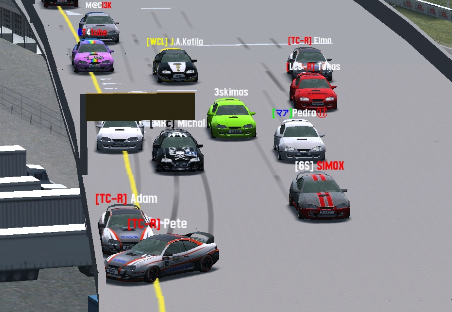 Team-mates make contact
With a long run into Turn 1, it was a case of best start. With an even initial launch, the front 2 depart side by side, with Michal in P6 getting an excellent start to draw alongside and past into 4th by the first braking zone.
A rare misjudgement by Pete saw the [TC-R] driver cut in front of his team mate and subsequently half-spinning, pinned against Adam's bumper in what was a mildly hilarious accident. However, this put Pete right at the back of the field, with work to do.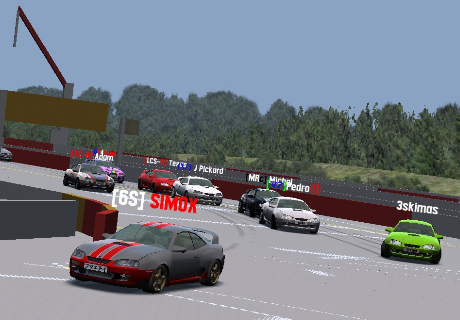 Optimistic overtaking by 3skimas
In all the chaos, 3skimas saw opportunities and managed to pass several drivers to leapfrog himself from 7th into 2nd by the middle sector, driving clean around the outside of Pedro.
Behind him, Michal repassed Pedro to retake 3rd after losing out in the turn 1 incident. [TC-R] Adam was also slightly compromised, now settling back down in 4th. A few cars back, a regular fast-starter GT4tube was now up to 8th, challenging [LCS-R] Texas for 7th as they begun the 2nd lap. [TC-R] Elmo had gained a position whilst [WCL] T.Soini dropped to the back of the pack after a poor opening lap.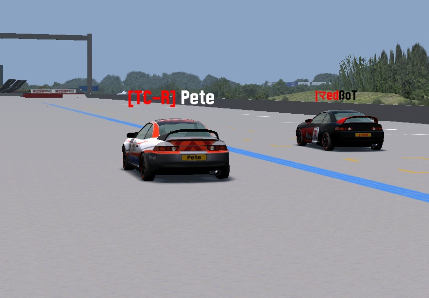 Early pitters on Lap 1
Relegated to the back, Pete and Redbot chose to complete their compulsory stop on the end of the first lap, a move which would prove vital for their races later on. Emerging in 14th and 15th respectively, they were on the move with the clear track in front of them.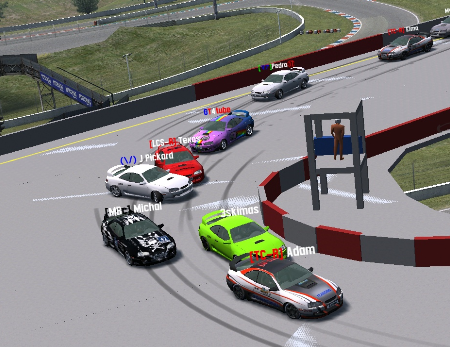 The final hairpin
After sustaining pressure from Adam, 3skimas finally let his defense down exiting Turn 3, allowing the [TC-R] driver to draw alongside and past for 2nd place, with a substantial gap to race leader, SIMOX.
Further back, the battle for 5th was hotting up between Pickard and Texas, both of whom were exchanging paint on several occasions.
3skimas attempted to get back at Adam on the very next lap, but instead failed, running way too deep into Turn 1, and allowing [MRc] Michal to get past for 3rd and barely holding off Pickard in 5th.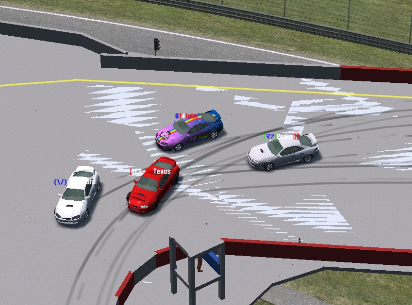 [LCS-R] Texas outbraking himself and wiping out J.Pickard at Turn 4
Lap 3 saw [WCL] J.A.Katila pit for an undercut, hoping to leapfrog the drivers ahead who were tussling for position. Somehow in all of the battling, GT4tube had now slid in between Pickard and Texas in 5th, before an error allowed Texas past again. 3skimas, who had been racing well in the upper mid-field, disconnected due to personal reasons, pulling out of what was to be a great finishing position!
At this very point on Lap 4, a fundamental error in the track resulted in a butchered Insim Checkpoint move which caused the timing system to briefly cut out, which saw [6S] SIMOX lose a lap on his tracker and bringing out a Red Flag soon after.
Due to the Red Flag and subsequent lap countback, the incident between Pickard and Texas was nulled.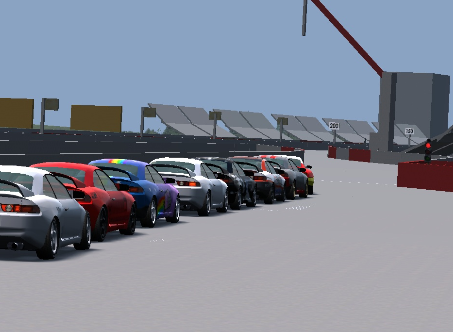 The first Red Flag of the season
The drivers pulled into the pit-lane orderly for a positional re-dress, complicated by positioning issues and incidents that resulted in spectating. In the Red Flag period, main championship contender [6S] SIMOX, who had been leading the race, unfortunately left the server due to personal commitments.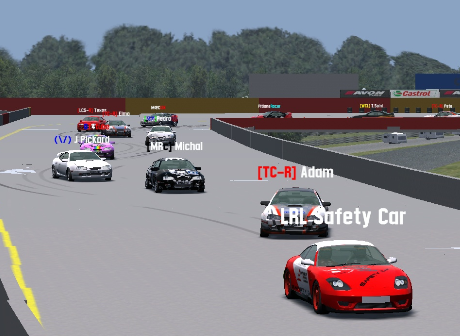 The field weaving behind the Safety Car
The race restarted under Safety Car conditions, with new race leader [TC-R] Adam up front ahead of [MRc] Michal, J.Pickard and GT4tube, the cruise hero who was now up to 4th.
With no tire blankets in Live For Speed, majority of the field were now on stone-cold tires, aggressively warming them up for the race restart. Meanwhile, a poor connection by [LCS-R] driver Texas saw him drop out of the race and out of 5th position.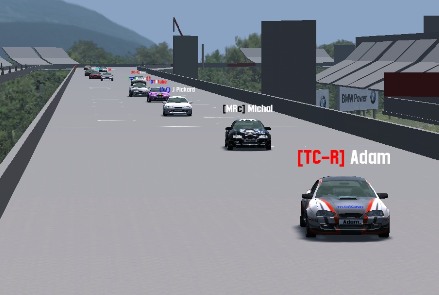 The race restarts
The field closed up for the restart, with Adam getting timing it perfectly to lead by a margin over 2nd.
GT4tube and Pedro(17) were locked in a battle for the top 5 placings as the front 3 slowly drove into the distance.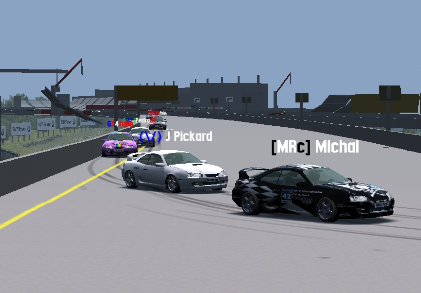 Battle for 2nd
As the laps wore on, it was clear Michal was holding Pickard up and slowly allowing GT4tube and the midfield to close back up. With a great defense, the MRc racer managed to fend Pickard off much to the latter's dismay.
In the meantime, the battling for 5th allowed the fast charging [TC-R] Pete to climb right to the back of the top 5, and was soon past both TGT4tube and Pedro as the championship leader sought for yet another win.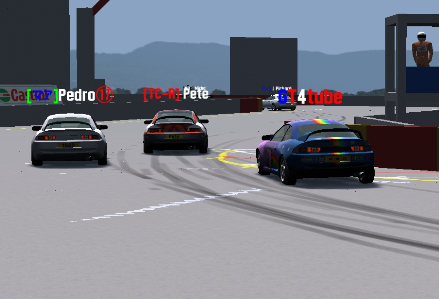 Carving his way through the field, Pete
With most of the field yet to make their stop, early stoppers Katila, Pete and Redbot were in optimal positions. And this proved it self once the first stint ended, with most drivers pitting and emerging behind these drivers.
Adam had pitted and emerged in 5th behind GT4tube, which handed the lead to [MRc] Michal before he himself came in for his pit stop a couple of laps after, not before battling with Pete, eventually getting passed.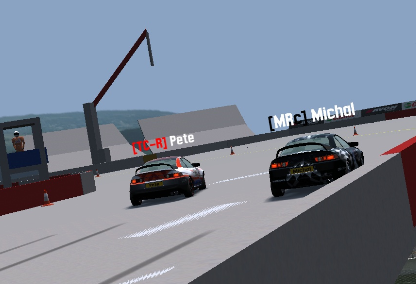 A stunning comeback drive
With the laps running down and a huge gap, [TC-R] Pete brought his RB4 home for his 5th win of the season, clinching the championship in the process! His team mate [TC-R] Adam finished 2nd after an equally fine drive and great passes after his pit stop. [MRc] Michal finished a well-earned 3rd after a fine drive, equalling his best result, with [WCL] J.A.Katila in 4th with a well-planned strategy.
Further back, Redbot finished 8th after lack of pace following his ideal strategy, with [TC-R] Elmo finishing a lonely 10th and PitlaneRacer rounding up the points' finishers.
With a great comeback following the Summer Break, Pete wins his first LRL championship ahead of SIMOX and Trespasser. Congraulations!
Stick around for updates on upcoming events and Season 2, in the meantime, thank you for participating, and have a good one!