Race Green Autosports presents this track - a 1.2km (0.75mi) long raceway layed out at Autocross car park.
Track is very wide with minimum width of 20 meters and has just 4 turns,offering possible 2 overtake places per lap.
With new LFS version 0.6H new layout objects were added,giving the chance to update this track for better,more modern and also a bit more realistic look,also giving the chance to create real start grid for both directions and fully functional pitlane.
Original track direction is anti-clockwise (ACW),but also the reversed direction - clockwise (CW) layout is attached.
The first idea for track came with the need to have a track at this location - in series we run in summer 2013,there was a schedule with 1 race in each LFS track environment. And it had to be fast enough for fast cars,while having some challenge into it.
Here are some preview pictures:
Turn 1
___
Turn 2
_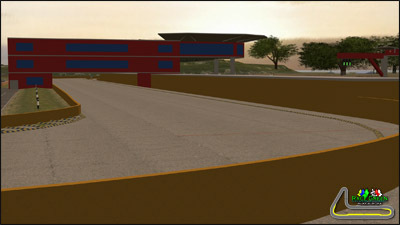 Turn 3
___
Turn 4
_
(click for HiRes pictures)
Track's main straight is 375 meters long and the track features 4 very different turns - turn 1 is a wide 180° turn,considered as 1st overtake opportunity,allthough the braking area isn't too long. Turn 2 is the only righthander,but it's a key turn to position the car for turn 3,which is a wide hairpin with artificial curbs inside. This 2 turn combination is considered as 2nd chance to overtake,as there is a big variety of possible racing lines. Turn 4 is the fastest turn,but precise line and good exit is the key to set up overtake manouver in turn 1 of next lap.
Changes between 1st version and V2:
Complete rebuild of track infrastructure - added features like garages,improvised podium/victory lane,the "red house" as a center of facility and few other more or less decorative elements (marshal booths,supply bridge etc).

The "epileptic" red-white barriers are replaced by yellow concrete walls.

Added 40 grid slots in each direction,also in ACW direction cars are now facing right direction at start.

Added 40 car spawn slots in garages.

Extended pitlane with 24 functional pit stalls.

Added braking markers before all turns that are considered to need them.

50km/h speed limit signs are replaced by 80km/h ones - allthough speed limiters are not functional in AU tracks and speed limit is not enforced by LFS here.
Changes between V2 and V2.1:
Outside wall of main straight moved 25cm towards center of track to avoid small grass patch on the braking area of ACW direction's turn 1.

Increased distance between starting grid rows from 10m to 14m.

Added fastlane and pitwork area dividing line in pitlane.

For reference,here are pictures of old version:
Pic 1
/
Pic 2
/
Pic 3
/
Pic 4
Best laptimes and approved World Records:
ACW:

UF1 - 47.31 (pitlaneracer)
XFG - 43.15 (cuprum)
XRG - 44.26 (pitlaneracer)
LX4 - 38.94 (greybull [cha])
RB4 - 46.32 (jinkaza3000)
FXO - N/A
★ XRT - 38.92 (rik97)
LX6 - 39.19 (cimanu)
RAC - N/A
FZ5 - 39.78 (delis)
UFR - 35.65 (delis)
XFR - 35.55 (rcex)
★ FXR - 30.67 (Joku123)
★ XRR - 31.95 (Invecs)
★ FZR - 31.23 (Smashmolth)
MRT - 36.34 (cuprum)
FBM - 35.19 (teppari)
FOX - 32.82 (kevinracer)
★ FO8 - 28.78 (przemek21061995)
BF1 - 26.34 (viperakecske)

CW:
UF1 - 46.06 (michal 1279)
XFG - 55.29 (nikopdr)
XRG - N/A
LX4 - N/A
RB4 - N/A
FXO - 48.94 (nikopdr)
XRT - 46.34 (norbiwrc)
LX6 - 44.87 (norbiwrc)
★ RAC - 37.55 (Litro)
★ FZ5 - 37.99 (garfild12)
FZ5 - 37.75 (imudilaskyline)
UFR - 35.44 (arsk4)
XFR - N/A
FXR - 32.19 (nikopdr)
XRR - 34.52 (nikopdr)
FZR - 33.26 (arsk4)
MRT - 36.19 (jkat)
FBM - N/A
FOX - N/A
FO8 - 34.73 (nikopdr)
BF1 - 28.25 (nikopdr)

★ = set during official event,approved as "World record"
Hope you like it,have fun!
Please post (or link to) results here if any event is organised!
Feel free to adjust the layout to your likings,just remember the author!