Join the Layout Racing League Discord and communication channels
https://discord.gg/JNF3GFH
Yes, we're back! Layout Racing League ventured back to where it all began, at Broker Hill, for the Season 2020 opener! And boy was it as action-packed as it always is.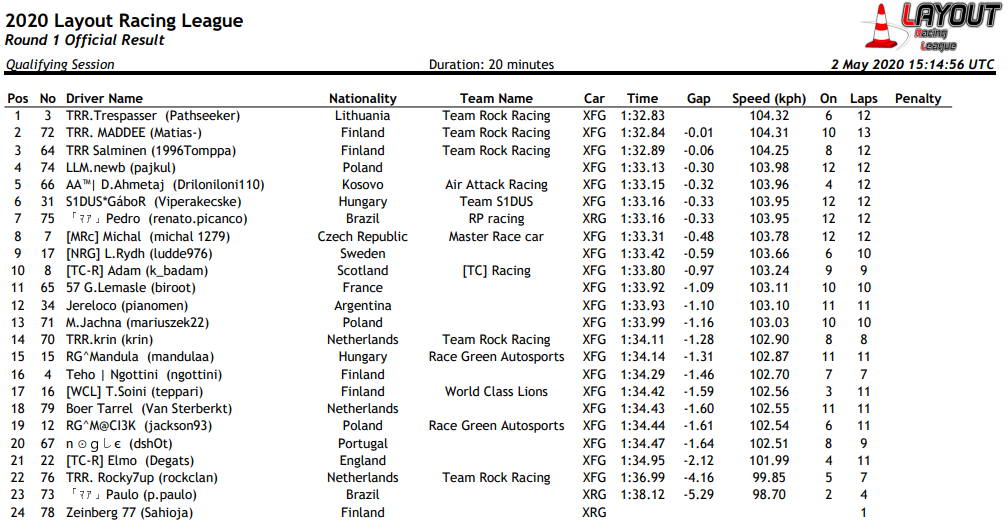 Qualifying
Qualifying was once again tight up the front, with Air Attack's D.Ahmetaj setting the early pace, before the TRR drivers started to top the time sheets. It was an all out scrap between TRR's Maddee and Trespasser for the pole, of which the latter only just got by 1 thousandths of a second, with a 1:32.83, although not displayed due to a timing error. TRR Salminen lined up just behind in 3rd, with LLM Newb not far behind. The top 10 were separated by just under a second, setting up for what was to be one good race.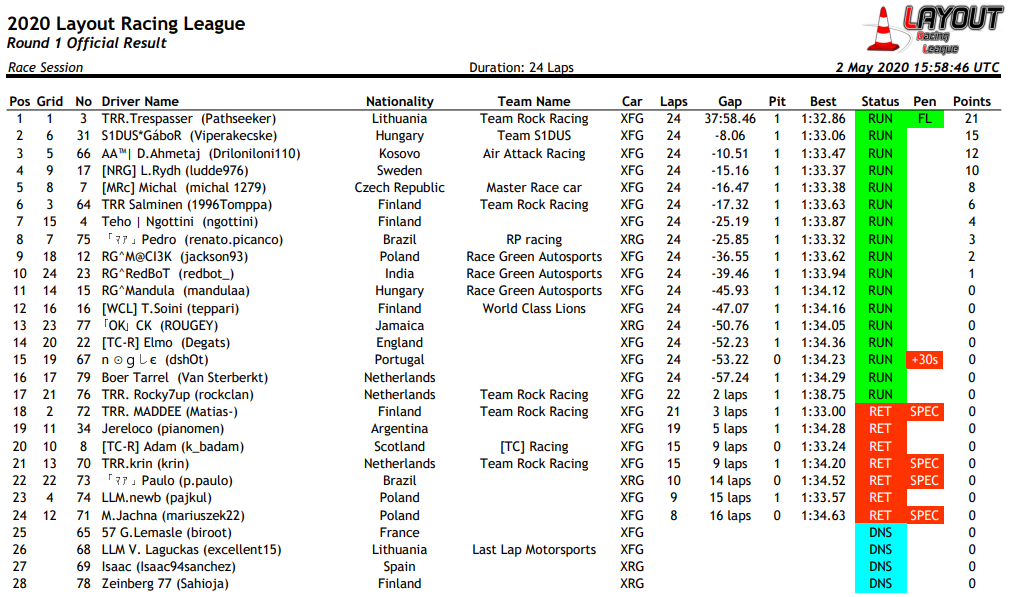 Race
The race start saw an even getaway from the front of the grid, with the drivers behind searching for real estate down into the second corner. TC-R Adam and [MRc] Michal both were in the middle of the chaos, while up front the TRR trio slowly got away. Scrapping up and down the field continued as drivers failed to break the draft, with several notable passes.
The pit stop process saw several drivers gain out of undercutting a battling pack ahead, while others failed in their strategy or got caught out by the pit speed limit; most notably Jereloco, whom received a Drive-Through-Penalty before quitting. An lag incident between Pedro and Cyankill saw Cyan crash out of a strong position, effectively sealing his fate to the rear of the field.
There were several disconnects that ran throughout the race, with Newb, Jachua, Adam and Krin all suffering the same fate. As the race continued, there were two main battles - the one for the lead between Maddee and Trespasser, and a huge train somewhere around 8th place.
The leaders pitted near the end of the race, and shockingly, what looked to be a hard fought victory by Maddee soon collapsed as his clutch gave out departing the uphill pit-lane, ending what was a brilliant tussle with his teammate, Trespasser, who would go on to claim back-to-back wins at Broker Hill, and once again lead the championship! Gabor for Team S1DUS finished in second with Ahmetaj putting on a good showing in 3rd. 5th-placed Nogle failed to pit, which would result in a penalty and promoting Teho Ngottini up a place and everyone below him. Team Race Green finished head to tail in 7th, 8th and 9th with World Class Lion's T.Soini rounding up the last of the points finishers.
Full race results and Driver's Championship Standings can be found at
https://www.lfs.net/forum/post/1955979#post1955979
See you again for Round 2 at Mid-Town Ring on 23rd May for more action!