AWS 2015 is ready to launch and Race Green Events offers a total prize money of 95€ for best 5 drivers of the season! The series is run over 6 rounds,using both LFS's all-wheel-drive cars - FXO GTR and RB4 GT,both cars will be used in 3 rounds,offering to drivers a great mix of races in different conditions.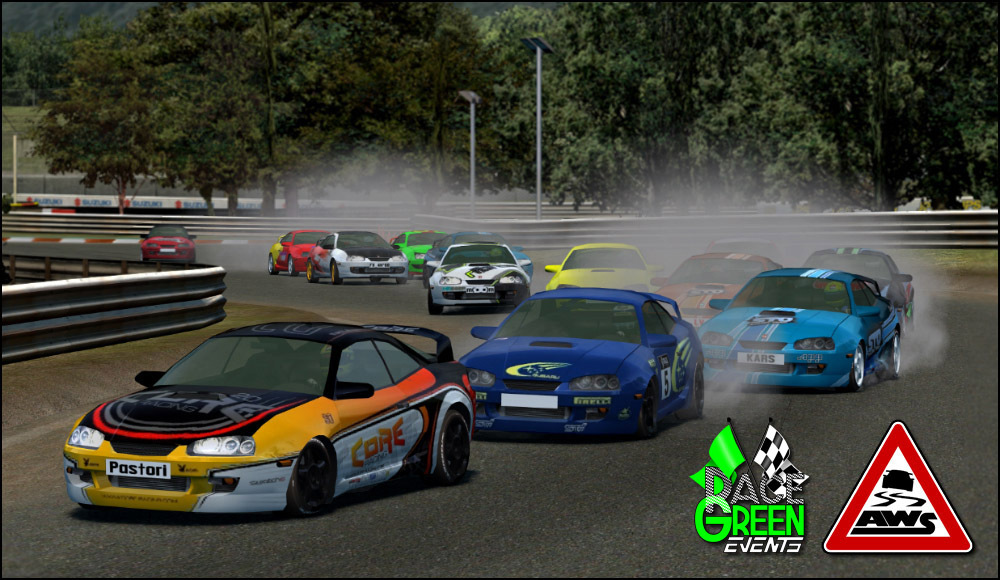 This will be the first season to start with the slower car - round 1 will be run in the dusty rallycross track of Fern Bay. Jamaican Trophy has always been earned by the driver who can find the best compromise between pace and tyre condition as the more durable road tyres are not an option here.
First race of the new year has always been the round 2 - NewYear City Challenge and this year will not be an exception - the FXO GTR will face the faster Chicane Route Reversed configuration,increasing the round's distance to 119 kilometers.
Just like last year,also this year the Aston Grand Prix will be run with the slower RB4 GT in a track for chicane fans - round 3 with the custom configuration Long Chicane Route offers quite a lot of various chicanes,one trickier then other.
Round 4 returns series at it's basics - powerful FXO GTR equipped only with slick tyres meets rallycross track. Result of this combination is much faster then everyone could think,as it is the fastest way around the Blackwood Rallycross Track Reversed - if you need more then one minute around this track,you're no danger for the best racers in way for a victory in Blackwood RXGP!
Round 5 will be a brand new round in AWS - it will be the first time when series hosts a race in Westhill. Will it be one of the final tributes to old track or one of the first races on the new one depends on our developers,but surely RB4 GT will be a tough challenge in any case - everyone has a chance to be the first winner of AWS Westhill GP.
The final,6th round is the one which has stayed unchanged in all 4 seasons - Winter 200 is a 200 kilometers race around the mighty 3km Kyoto Ring Oval,where teamwork is not optional as byhimself everyone is slower then the rest!
We had very different situations in the battle for the Drivers Champion title - from complete dominance of one driver in first season to a tied points situation before final round last year. Series offers a total of 7 different awards through out the season,only time and competitors will show who will earn the bragging rights - this is your chance to join the chase for the All-wheel-drive Winter Series championship titles!
AWS 2015 information and sign-up thread:
https://www.lfs.net/forum/thread/86993