Nearly two weeks ago CityLiga 15 ended. It is now time to find some closing words. This little crystal jubilee went straight at the organising site without any incidents or special situations. The comission also only had to decide about one situation. The spectacle - as it should - happened purely on the track and delivered some unexpected outcomes.
The crowning of the champion is definately not such a fact, but that
HoR Schuhti
steps out of the circle of (prominent) favorites to capture it, was such one. He himself was relieved to reach the goal of his (LfS/CL-) dreams set his step not only on the podium like a couple of times before, but to climb to the top of it.
Mistakes are generally rare, but this time everything seemed to fit. His worst results were dropped, which left only race podiums (!) in his classification. This also resulted in a new point record: 1548 points to 1537 by
RAPTOR Intre
in CL13 respectively 1536 by
メcite Maddin
in CL12.
N I K I
resp.
-TRR- Zeus
had a similar plan, which didn't quiet work out. He was the toughest competitor and is the first ever not German-speaking runner-up.
Behind this best result for an international driver in his rookie season in CL, one can find a few other CL-known drivers in the final classification. (->
http://www.cityliga.de/component/content/article/500.html
) Surely not unexpected.
AY R. Pärschke
was rewarding himself after a focused and flawless season by ending the season on the final spot on the podium in front of two-time-champion
AY P. Kubinji
and
-[BC]- Jan-Ole
, who clinched his personal best result in his seventh season.
The following
HoR Totti
,
メcite Andy
and
GRT climbs
are a trio which started the season in Grid 2 and clinched promotion spots during the season.
メcite C.Barnick
is nineth and the next who grid qualified himself in Grid 1. With
D.Potthoff
as 20th,
APR Flame
as 36th and
RAPTOR BasTi
as 39th only three others started the season in the top grid and finished it, which consequently means that two thirds of the original Grid 1 qualifiers decided to end their season early.
SRTA Mensafest
completes the Top-10 with a slim margin over
«BFVR» Didi
and
HoR Joker
, who had their head-to-head race for the 'drop result king'. With 194 dropped points the latter won this inofficial and useless title. Only
TSF.Dietmar
(168) was able to follow those two, but on a more sporting note with his 17th place he is the best driver who started the season in Grid 3. The fourth driver to finish all races was
Mario
who achieved a 31st overall place.
-[BC]- Aero
did the remarkable job to miss the Grid Qualification, start the season on the waiting list and from there on work his way up to Grid 1 and the 14th place. However he failed at the 1000 point boarder, while 13th placed
メcite Mave
broke it.
CL15: Winners (and their podiums, totally 33 + 66)
HoR Schuhti: 5 + 4
(-[BC]-) Aero: 5 + 2
TRR- Zeus: 3 + 2
TSF.aleex!: 2 + 3
メcite Andy, SRT-Flip, CoRe Hansi & RAPTOR Paddi: 2 + 1
delis: 2 + 0
SRT-Wasrun: 1 + 4
メ C.Barnick 1 + 3
D.Potthoff & Pr3d4t0R ///: 1 + 2
ATTAX b0nd 1 + 1
eXR Ascona b, FFR GEHEIMRAT & cq.gargi: 1 + 0
and 27 other drivers on the podiums left.
More statements could be made about the other so far unnamed 100 competitors, but at this point it shall be sufficiant to mention that, although having 19 withdrawels and sadly (!) incredible 38 disqualifications, a new record in the post-
TPS
-era was achieved. This might also have something to do with the first advertisements and coverage at the international site, for which we want to thank
NDR.Falke
! Dreaded problems did not happen in this context and although not everything was perfect, it is nice to see that CityLiga does not only have a reputation in the German-speaking world.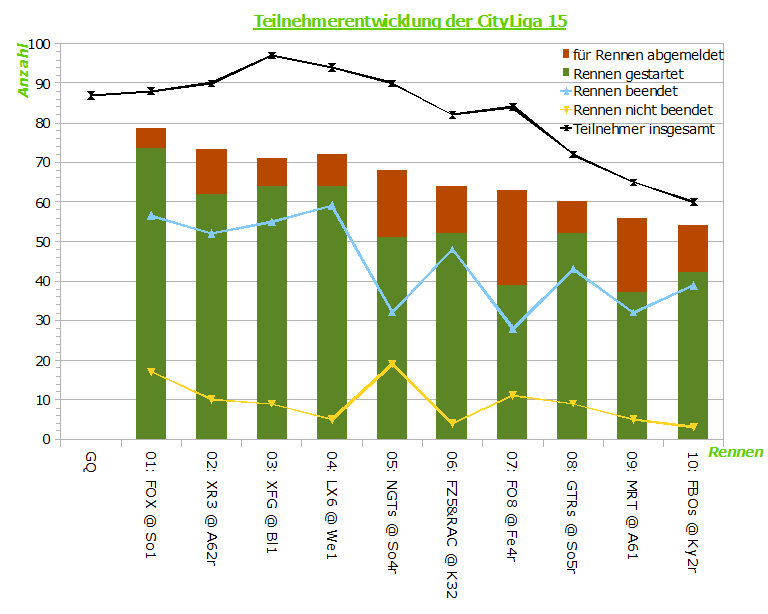 CL15: Statistics
116 sign-ups of which
82,6 participated in average (max. 97, min. 59)
52 did the whole season
12 competed in all races, but 'only'
4 finished all races.
32 race starts let
647 engines roar
533 times the chequered flag was shown, which means
114 times (9,5% in average) someone did not finish.
The finding that teams play an important role in CityLiga is nothing world changing, but 41 different team tags during a season are something new. If you want to know the record holders in team changes and new members, you should ask
BurnoutCrew
if they have more precise numbers. From the impression, however, they lead this statistic and were featured twice in the teams' championship (->
http://www.cityliga.de/component/content/article/501.html
). Moreover they battled within their rows for the final spot on the podium. In the end the old
-[BC]-
generation has beaten the young guns, mainly because they entered the championship during the season. However against the teams of
Ich mach mal den Anfang
(originally known as
Xcite
) and the succesful title defenders
Heroes of Racing
they didn't have a chance, just like everybody else.
CL15: Teams
20 drivers were teamless
9 started for
BurnoutCrew
7 for
Heroes of Racing
6 for
Team Simracing-Fahrerlager
5 for
Croatian Racing Team
13 times
HoR
stepped onto the podium (5 + 8)
10 times
TSF
(2 + 8)
8 times
Spirit Racing Team
and
Xcite
(both 3 + 5) and
6 times
RAPTOR-Gaming
(2 + 4)
Whoever wants to take a closer look at the results can now do so in the 'Hall of Fame'. (->
http://cityliga.de/archiv/hof.html
)
That there are certificates to cherish a relaxed but not a boring season in the download area (->
http://cityliga.de/downloads.html
), is no surprise. Neither are our thanks to our essential supporters
avetere
,
KlausAdam
,
Luder
and
splattael
!!!
And the surprise? Maybe you ask the Top-3 drivers in a bit ;-)
article by
Jogy
translation by
Falke