Alternative.AXLE3D with an outstanding victory!
Alternative.AXLE3D won the 12hours endurance race with three laps in front of n!faculty. Within a perfect race, a perfect set, great performance and a very focused drivertream they reached after 441 laps the finish line! n!faculty has had in serveral situtations either more difficulties as awaited. The second place was the best and maximum result after this long raceday. [TDRT] entered podium in their first DoP 2010 race on third place. Close to 100 laps [TDRT] has had the lead in this race! A very impressive access in their well prepared FXR!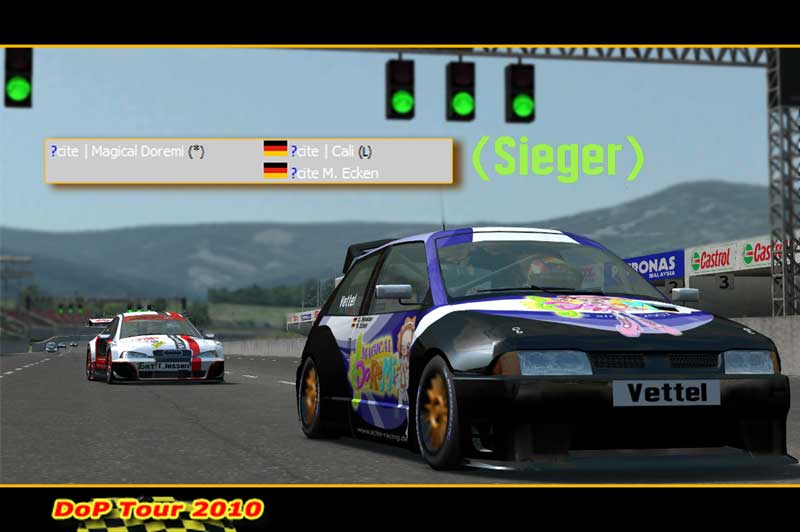 メcite | Magical Doremi untouchable the whole race in front
!
The owner of the first position in the N-GTR Class was 'Xcite | Magical Doremi' from start to finsh. They dominated this competition at any time and without any problems, a perfect performance all time. The '-[BC]-Comeback' Team from BurnoutCrew reached after many fights, with 'ConceptRacing' the second place. 'CR' lost this good position after several problems and one disconnect. 'eXtrem Racing' placed their XRF after a hard race on three. The favorite 'Speedcore Racing' entered the race after the official start in lap 6. Too late, but with sportsmanship they reached with four N-GTR's Team the finnish line in the same lap, respect!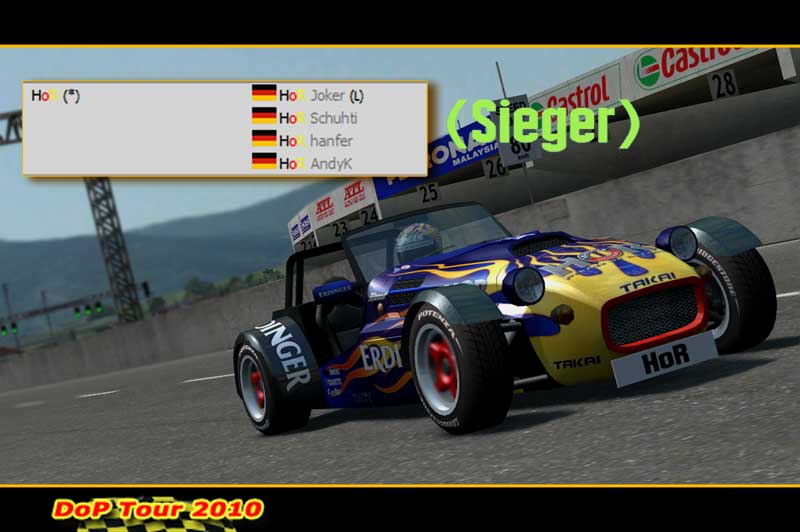 HoR - nice, fair and really fast, the LX6 Win!
The LRF Competition was on this day manageable. Only three teams started. 'Concept Racing' in their heavy to drive FZ50. With unbelievable times in the qualy, 'HoR' and the 'BC LX6 Honks' were surprised and even warned. But 'CR' could not keep this speed over this long distance. 'HoR' presented the fastest and continuously drivercrew. After a spectacular tire blowout 'CR' lost finally any hope to hold on second position. So the 'BC LX6 Honks' were placed after 363 laps and 12 hours on second place.
22 teams in three classes and with seven serveral cars have had the full excitement of a strong endurance competition. Only one team left during this race, so a great compliment at all. For sure a fair race, and a very good enhancement to 2009! Great work! One of the biggest endurance highligt is waiting, but before we will have a 90min visit in Fernbay.
All results are here:
http://www.bc-racing.de/BurnoutCrew/Homepage/index.php?navigation=dop_standings
Further informations here:
http://www.bc-racing.de/BurnoutCrew/Homepage/index.php?navigation=dop
Our next race is in January 2010 / FernBay! We will announce the SignIn Server in time!
So we wish you all a merry christmas and happy new year! Keep Racing, Normann