Looking at the results, it looks as if the Open Endurance Cup Four champions came, saw and conquered Aston in the first outing of OEC5. The duo of
K.Takahashi
(FasTLT) and
R.Takahashi
(Excellent15), who used to race under the Last Lap Motorsports but after
K.Takahashi
's (FasTLT) switch to Team S1DUS race as
Akagi Red Suns
this season, captured pole position and won the race in the NGTR class. However, the victory did not come as easy as the results might suggest.
The first corner already causes drama in the field.
Gugelhupf Racing Team
looses a couple of positions on their way to the first breaking zone. Under breaking the two
Born To Race
cars of
Skattle
(Thespeed10) and
TwinCam
(cathal50cc) collide and spin into the gravel pit -both entries retire from the race early- while
Michal
(michal 1279) in the
Free Candy Racing
machine has a light contact that coincided with a lag spike from
Launch Racing
's
P.Duffin
(paul88), launching him into the air but landing back on all four wheels. The hard impact causes damage that would turn out to cause multiple punctures in the later stages of the race.
Meanwhile
Concept Racing
's
Eisbaer
(Zapphord) exits the first chicane in third position, leaving four of six UFR in the top four positions. These four set the pace on the sharp end of the grid in the opening stages of the race before splitting in two long lasting two car battles of
Akagi Red Suns
and
Cruise God
for first position as well as
Last Lap Motorsports
and
Concept Racing
for third position respectively.
Cossi
's (Schrauberherz) recovery from the time loss suffered at the start is halted early on as the
Gugelhupf Racing Team
driver was forced into two spins batteling with
D.Duffin
(cougar8) and
P.Duffin
(paul88) four laps later. Adding insult to injury the car flips on its roof in the first chicane on lap 16.
Gugelhupf Racing Team
eventually finishes in nineth position.
Last Lap Motorsports has a troublesome middle stint eventually allowing the #24
Launch Racing
car of
D.Duffin
(cougar8) as the best XFR to take fourth position and defending it to the checkered flag.
At the top
Infern0
(tr0l) is able to stretch his stint lengths pitting two laps after his competitors. But a penalty on the first pitstop and a puncture at the end of his second stint exiting the long right-hander under the Michelin bridge eventually prevent the
Cruise God
car from taking advantage. He finishes on the bronze rank in class and handing the victory to the
Akagi Red Suns
and the runner-up position to
Concept Racing
on a silver plate.

1 01 - Akagi Red Suns (Last Lap Motorsports & Team S1DUS) 10.69 1 UFR 2:55:20.85 3:01.50
K.Takahashi (FasTLT)
R.Takahashi (Excellent15)
2 42 - Concept Racing 10.06 5 UFR +76.63s 3:02.98
Eisbaer (Zapphord)
3 75 - Cruise God 11.44 2 UFR +98.96s 3:01.44
Infern0 (tr0l)
4 24 - Launch Racing 8.81 6 XFR +140.14s 3:03.94
D.Duffin (cougar8)
5 34 - Last Lap Motorsports 8.19 3 UFR +156.74s 3:02.39
Sobis
Ripe (narkoze)
6 17 - Launch Racing 7.56 12 XFR +1 lap 3:04.85
A.Coupe (maz17)
7 55 - Launch Racing 6.94 13 XFR +1 lap 3:05.17
M.Duffin (mat8863)
8 47 - Free Candy Racing 6.31 10 XFR +1 lap 3:04.15
Michal (michal 1279)
9 07 - Gugelhupf Racing Team 5.69 XFR +1 lap 3:03.05
climbs
Cossi (Schrauberherz)
10 88 - Launch Racing 5.06 XFR +2 laps 3:04.41
P.Duffin (paul88)
11 33 - Pocket Lugon Team 4.44 11 XFR +3 laps 3:06.21
Elberto
i-M@n (i-man)
thescorpio
12 20 - Fetch 2.81 14 XFR +3 laps 3:08.75
GUMIIIMrFetch (Features_Gaming)
---------------------------------------------------------------------------------------------------------------------
DNF 29 - Born To Race 1.00 +44 laps 3:03.97
Skattle (Thespeed10)
DNF 86 - Born To Race 1.00 +50 laps 3:05.65
TwinCam (cathal50cc)
DNF 18 - Energy Virtual Racing 0.00 +54 laps 3:06.12
K.Piropo (KaiqueBRA)
DNF 77 - XinoXano 0.00 +55 laps 3:50.31
iltrida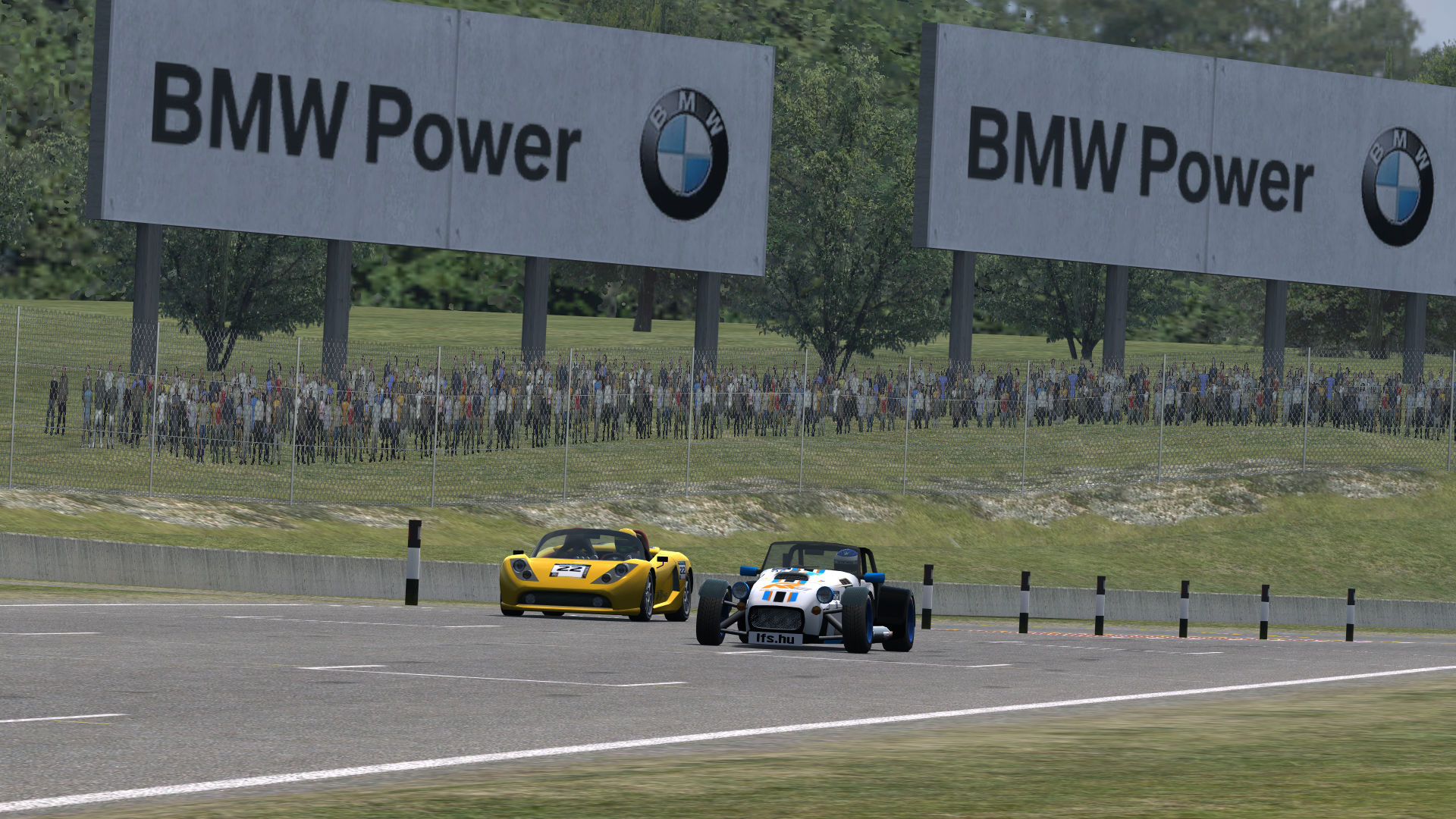 In the LRF class it was a flag-to-flag victory for the Hungarian
LFS.HU
LX6 team of
Lacko
(Lacko86) and
toga
. The only other competitor in class was
Fragmasters
' Raceabout 06 driven by
Number
(NumberTwo) finishing two laps down after an attempt to double stint the tyres led to a puncture on lap 41 (same spot as
Cruise God
).

1 99 - LFS.HU 8.50 1 LX6 2:57:39.23 3:11.58
Lacko86
toga
2 22 - Fragmaster 3.50 2 RAC +2 laps 3:14.78
Number (NumberTwo)

The next round brings the NGTRs and LRFs to Westhill on Sun 19 Jul 2020, 16:30UTC. The race will again be broadcasted by our media partner SimBroadcasts.tv. Sign-ups to Open Endurance Cup Five stay open, so you can join us on the grid.