"I need time this month to solve some personal troubles. So I can't to be sure to fulfill the date so I decide to release it before.
I think is not serious for my part, but I think people can understand this situation. Anyway the work has been finished and presented in a video teaser, so, why wait?"
Since January of this year I have worked very hard in this work. Currently this is my best job so far. There are a lot of hours inside Revolution Pack 2012 but I don't know how many hours I made. Perhaps 1000 or 1500. The RP June 24th has been done in 257hours. A work of 3 months instead 10 months of this RP.
I recognize I'm very, very tired. Mentally it is hard to have a 100% of the motivation in ten months but I see that is possible and the encouragement of the lfsforum.net users helped me alot.
The criticisms and the suggestions are clearly the most important thing here to take the right direction. I think if Wildstyle and Bose does not talked about some of those changes(tarmac and grass), this work, probably would be very poor compared to the current work. The proof are in the pics from the first page of this thread and the latest pics published on my blog.
I'm very happy to finish this work and I will enjoy alot for sharing the Rp 2012 with all of you on December as a Christmas gift for the community.

Thank you very much.
Before and After Pics:
i.imgur.com/ded0E.jpg
http://i.imgur.com/JFfK9.jpg
http://i.imgur.com/OfBIE.jpg
Old RP version
http://i41.tinypic.com/5khp4l.jpg
Current RP version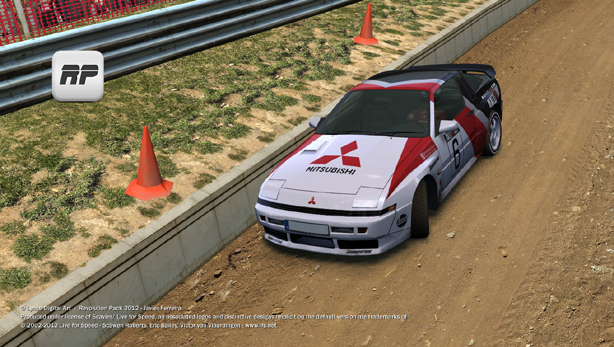 i.imgur.com/5L4Yu.jpg
Ingame Shots:
http://i.imgur.com/I9amB.jpg
http://i.imgur.com/GBsXb.jpg
http://i.imgur.com/zL62z.jpg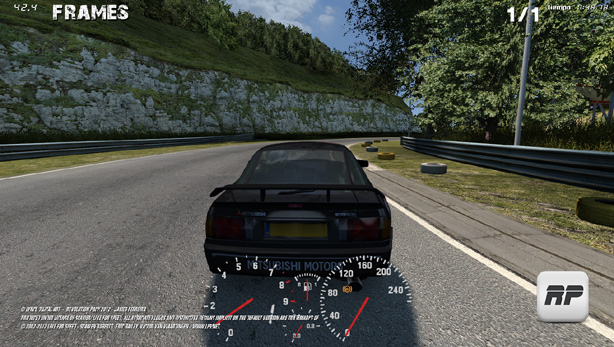 http://i.imgur.com/mN4N2.jpg Video Teaser: http://www.youtube.com/watch?v=viOeRHa8_yo HQ thanks to the upload of

imbestracerthereis

: http://www30.zippyshare.com/v/82153789/file.html

HD (High Quality/

Needs a registration

to download = 188 MB):

http://www.4shared.com/video/N ... _Pack_december_20th_.html

Revolution Pack is a work about texturization of the Live for Speed.

In this case is the texturization of the Fern Bay track.

It's free and for everybody.

Where do I can find it? www.revolution-pack.com_EXPIRED
CTRL+F5 in the download section to see the new two links. Thanks.
Specifications._
The size of the RP 2012 with High res. files is 386 MB.
The size in 2048 x 2048(remember not all files was in that size because it is unnecesary) is 162 MB.
You can alternate textures between files. For example, tarmac and Sand in 4096 x 4096 and 2048 x 2048 the rest.

How to install:
Make a backup of your files.
Unrar on LFS/data/dds.

Textures from, (except tarmac, Flag, power lines, Landscape and curbs):
http://www.cgtextures.com/
Related links._

Development Blog:
http://revolutionpack.wordpress.com/
Official site:
http://www.revolution-pack.com_EXPIRED/
The license of this work will be creative commons 3.0 so if the people want to resize or create mods there is no trouble there. Only I
demand
respect for this work putting the original credits.
This is the Revolution Pack credit collaborators list today:
The Very End._ Suggestion for the Track for this work. RP June 2012.
Whiskey._ Technique to save in the same angle to take two photos for the "before and after" preview.
Bose._Suggestion of the important improvement of the grass. RP Dec. 2012
Wildstyle._ Suggestion for the variety on the Tarmac. RP Dec. 2012
Braien (No longer welcome on the forum )._ Technique to save in 4096 x4096.
Daniel_CRO._ Complete file list of the Fern Bay.
lfsrm._ Program to make a conversion from .PNG to .dds. Work with Alpha files from scratch for future RPs and the "Patch" of this work.
Hosting._
Pascal. His own site.
Mediafire (4096 x 4096)
Mediafire (2048 x 2048)
Yeah. There will be a "Patch" of this work in 2013.
Don't you like this addon?
Higher-Res Track Textures Volume I - by Electrik Kar:
http://www.lfsforum.net/showthread.php?t=20033
HQ trees for all track by lfsrm:
http://www.lfsforum.net/showthread.php?t=80702
High_Res_Tracks_0.12 by pjuniorbra:
http://www.lfsforum.net/showthread.php?t=79132

Another amazing works:

zenkiukas winter textures:
http://www.lfsforum.net/showthread.php?t=81097
Smove's menu backgrounds - v0.1:
http://www.lfsforum.net/showthread.php?t=80092
FXO/FXR Light Concept by smove:
http://www.lfsforum.net/showthread.php?t=76141
Tyre Sidewall Workshop by Rainey:
http://www.lfsforum.net/showthread.php?t=61285
Reworked jersey barrier by disposable:
http://www.lfsforum.net/showthread.php?t=47896
Rocky's Blackwood Textures 2012 v0.7 (Released)
http://www.lfsforum.net/showthread.php?t=80821
New crash/wind/gravel sounds! by Darkone55:
http://www.lfsforum.net/showthread.php?t=42860
Rocky'sRacer Engine Sound Pack v0.3:
http://www.lfsforum.net/showthread.php?t=80822
South City Incomplete Hi-Res Texture Pack by deCesaris:
http://www.lfsforum.net/showthread.php?t=81391