First of all, Thanx to all drivers raced yesterday, avesome 40 grid, and 36 drivers ended race!
This making me belive we are better and better every single race, and soon there will be more close and fair fights, 6 to 10 cars trains, every corner you need to be focused and defend you position - This is all about inour league, fine and fair racing!
Next race is FE2R on both cars, picked by Lucas, yesterday winner - you can practice whole week until next Thursday will kick off !
Since ive writed 'fair driving' we got a claim from Gordon Freeman against Can.D and now i want to resolve this claim.
First of all, let's see what happend:
1.Entering short straing after long right corner, Gordon Freeman is behind Can.D and eX.R Ascona b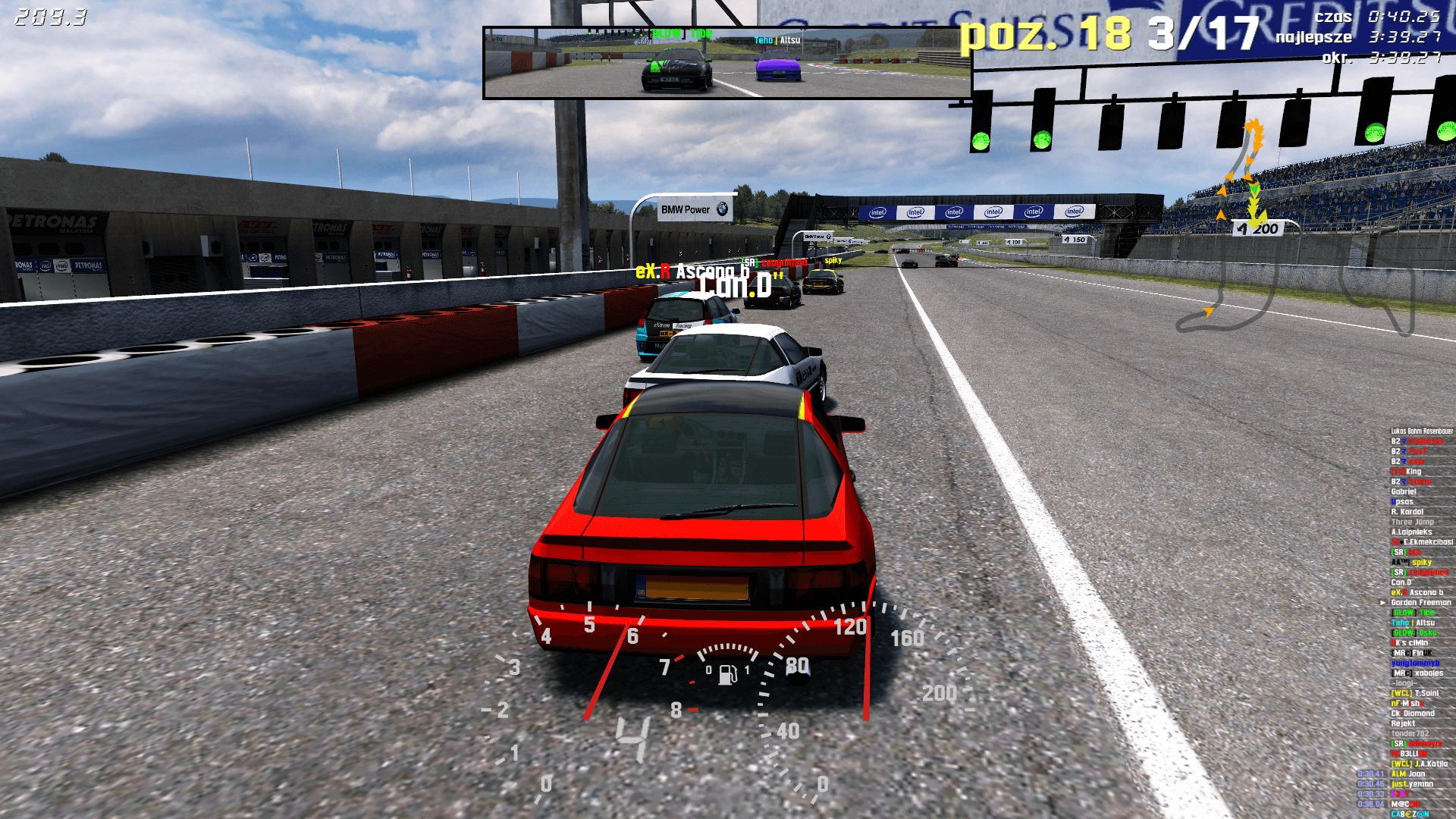 2. Now action is starting, Gordon is taking an action to overtake Ascona b on inner side, when Can.D is on the right side.
3. Three wide car entering left hard 180 turn, Gordon closin on inner side, Ascona b manages to be in the middle and little behind, Can.D aproching form the right side
4. Ascona managed to stay more on brakes to not be still in the middle, nice choice Ascona!
But Can.D managed to not look on his inner side, and what is happening on inner side - aproching to inner racing line like there is noone attacing his position!
5. Here we see Gordon really didn't have any space to not contact with Can.D
6. And the contact was made
7. Can.D get's little lose due to going outside a bit of the track and losing some 0,4sec on this corner
8. It sohuld be okay for now, but now what ive seen, seriously, ive didn't expect this because for real, Can.D you are good and fine driver, many times with fair fight, don't really know what happend to you because it was your fault when you closed inner side of the corner without checking if someone is there. You etering next tight right corner in full throttle
9. You are hitting Gordon in some revenge ? or what should i call that ? You throwed him away form the track to the sand, he losted soo many positions, you elier contact didnt lose you both 10 or more places, you just losed one corner there, and why managed to kick him out of the track ?
Resolving claim by Gordon Freeman against Can.D in 7th Race Gti Thursday on AS6 with both cars allowed.
Can.D - Reaciving a 5 penalty points for causing in intetion crash, pushing Gordon out of the track to sand, and losing above 10 positions. You didn't check elier you inner side when aproaching left conner, if someone is attacking inner side, its his position, and you need to left him space to take this corner, you cutted to inner side and was angry there is Gordon with his car ? Next one you are in angry range, and crashing him without a proper reason - We are not allowing this kind of behaviour - We want to have clean and fine races, when everybody respect eachothers and beeing fairplay. Please stop doing this if you want to feel more fun in our league.
Gordon Freeman - reaciving a warning. You attaced Ascona B with high risk there, wenting two tyres on the grass, that was a risky move but you where faster. You saw Can.D and Asconda is aproaching on corner like you, and more than 2 wide corner are always risky to take. In future try to be more focused, you dont need to pass in every possible situation

I think this can be understand by both of you, and on next race you will calm down, and we all can have another nice race.
Track is loaded, pass is disabled, you can all practice for next Thursday
Actual standings, points, etc is aviable on site:
lfsracingleague.com
Cheers
Ade