spdoMorgan and v\P.peron made a successful return to Ligue FR after missing round 1, beating in the process two other drivers making their come-back: Renesis' Carpio and Ricou. Meanwhile, [TLP] drivers made it 3 out of 3 in pool B, with FSR-System following closely
.
After the STDs in round 1, drivers had to master the more powerful turbocharged TBOs this time. The 4 intake restriction given to the FXO provided a most varied field than usual, with 17 FXO, 10 XRT and 8 RB4 showing-up.
Line-up wise, note that reigning champions Magic Turtles could only field one car(for Swiss driver Tanakan), and Rasta4Racing couldn't field any, which will definitely hurt the championship chances of both teams.
Here's a sum-up of the most notable on track action of the night:
-Pool A:
Qualifying was very tight in pool A, with the whole field grouped in approximately one second. Pole was taken by spdoMorgan in 1:23:62, four hundredths in front of ®Ricou. ®Carpio, [TLP] Edgar and v\P.Peron follow in 3rd, 4th and 5th, all three in 1:23:71.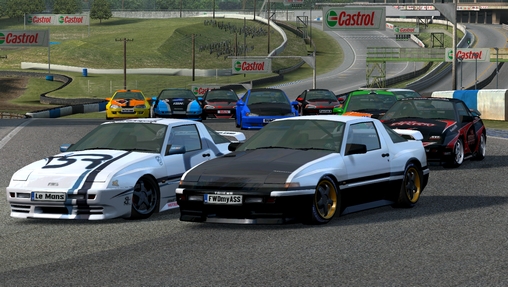 Fight between ®Ricou and spdoMorgan at the start of race 1.
Race 2's start was much more eventful. ®Ricou rushed from 4th to 2nd, but quickly got re-passed by teammate ®Carpio at the outside of turn 4. Behind, it was chaos, with a huge pile-up involving half of the pack, and putting (2F2F) Jman76 on the roof.
The big one of the evening.
J
ust one of these days for (2F2F)Jman76...
Unlike race 1, spdoMorgan couldn't pull away, and ®Carpio managed to catch him up by the end of lap 2. The Norman stayed behind the spdo XRT, without being able to pull any straight attack. Until the very last corner. SpdoMorgan, thinking the hardest part was done, slid out at the exit of the corner, after a small moment of distraction. This allowed ®Carpio to get alongside his former team-manager - who left the door wide open for an unknown reason. The Norman eventually ended-up 2 hundredths shy at the line, leaving the victory to spdoMorgan! ®Ricou rounded up the podium after a lonely race. [TLP] Edgar took another top 5 after a long battle with v\P.Peron, which ended up in a shunt and a retirement for the latter. This meant that the very surprising ISR J.Grégoire would inherit of 5th place.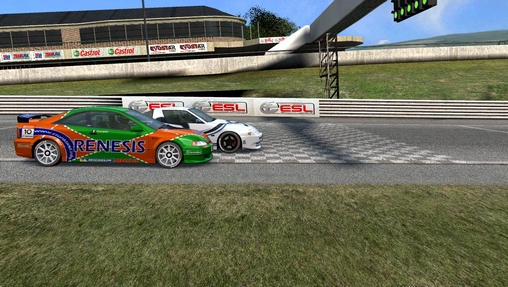 ®Carpio only missing 0.02 second there...
Race 3 saw a full reversed grid, according to the new 2011 regulations. A big mistake from the adminning team gave pole to v\P.Peron, despite the Vires driver retired from race 2. (2F2F)Jman76 and the two RB4s of RedlineVaillant and [TLP] Bruno rounded up the two first rows. As everyone expected, the two 4 wheel drive RB4s were up front by turn 1. v\P.Peron attempted to counter both of them quickly, and put an enormous pressure on [TLP] Bruno in the opening laps. This led into a very controversial incident: while v\P.Peron was attempting to bumpdraft [TLP] Bruno on the pitstraight at the end of lap 2, the [TLP] driver lost control of his RB4, ending-up against the wall, taking poor (2F2F)Jman76 in the process. The very surprising CD|FatBoy inherited of 2nd place, with v\P.Peron recovering on his tail. Peron managed to pass the Belgian at turn 4 two laps later. 4 laps later and the Vires FXO passed leader RedlineVaillant, struggling heavily with his overheated tyres, and flew to a rather controversial victory. RedlineVaillant didn't even manage to keep 2nd place: his tyres quickly got worse and worse, and CD|Fat Bot passed him easily in the last lap. (2F2F)Oliv76 attempted to pass the Redline RB4 aswell, at the outside of the very last corner, but Vaillant tangled with his rival, putting them to 4th and 5th place, and offering an easy 3rd place to Spanish driver Rayden Xspa.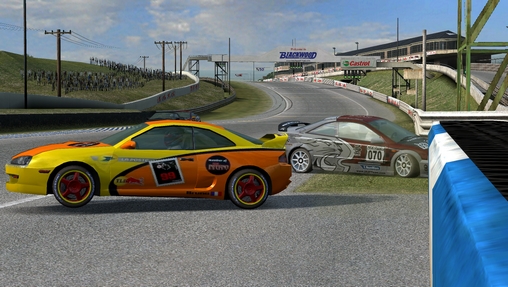 [TLP]Bruno victim of a tangle with v\P.Peron.
Unlucky (2F2F)Jman76 couldn't avoid the [TLP] driver.
-Poule B:
Pool B saw a Team La Poste domination, with [TLP] Roudim taking race 1 and 2, and [TLP] Florent winning the reversed grid race 3. If it wasn't a very hard task for them in both race 1 and 3, race 2 was a lot tougher: Florent was sitting in 2nd place for most of the race, behind leader FSR-System, and only managed to make the decisive pass at the very last corner of the race.
Race 1 gets underway. [TLP] Roudim takes the lead, in front of FSR-System.
Article writted by Yann "GreyBull [CHA]" Laprevotte and Alexis "System" Georg
Translated by Yann "GreyBull [CHA]" Laprevotte